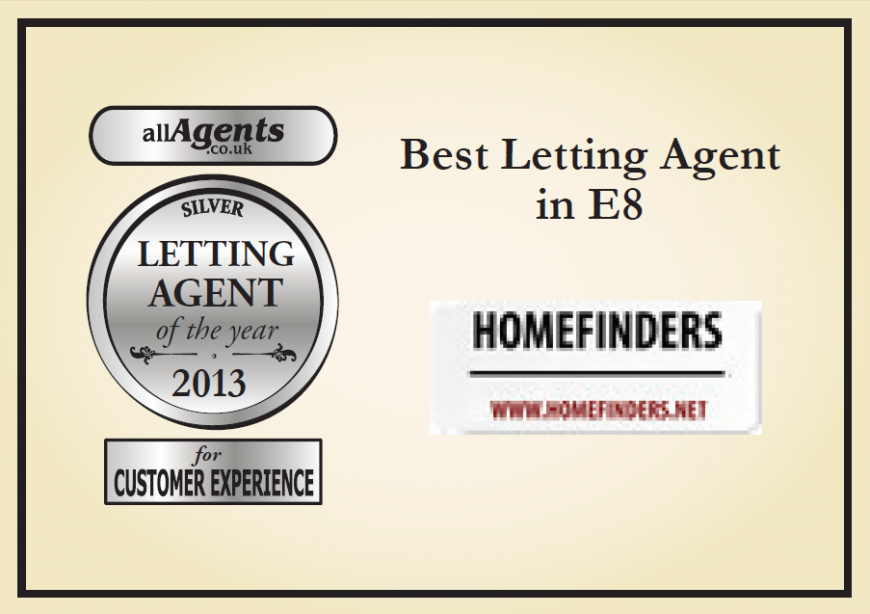 The London estate agent Homefinders has been named amongst the best in London by industry experts AllAgents.
The largest directory and review website for the property industry, AllAgents is a professional rating engine. It has named two of the Homefinders branches as being amongst the best in their area for 2013. The accolade comes as the family run company, which has a number of locations throughout East and North London, continues to garner five star reviews from clients.
The two branches recognised as being one of the top three in the area were the Homefinders Hackney office in the E8 postcode area and the Stratford office in the E15 postcode.
Haydar Sehri, Managing Director said, "We're really pleased that our Hackney and Stratford branches have been recognised for their customer service standards by the estate agent web directory, allagents.co.uk. This site is the TripAdvisor of the estate and letting agency world and we feel honoured to have received this recognition. They are both a reflection of the hard work and dedication the whole team has put in to get us to where we are today."
"The customer service standard is particularly appropriate for Homefinders as we have always prided ourselves on offering a personal and flexible service. As a family run business we endeavour to make the Homefinders experience as friendly and effortless as possible whilst maintaining high standards through every stage of buying, selling, renting and letting process. Unlike many agents, we have gone a step beyond in our mission to exceed expectations and guarantee a code of conduct by joining organisations such as the NAEA and ARLA. This means we keep our staff up to date on the property industry and adhere to a set of standards above and beyond the average agent."
In addition to the Hackney and Stratford offices, Homefinders has a third branch in Bethnal Green. It helps those looking to buy, sell, rent and let and offers a comprehensive property management service. As a certified member of several industry bodies including the National Association of Estate Agents, Association of Residential Letting Agents and the London Landlords Accreditation Scheme, it follows strict codes of conduct and standards of customer care.
Homefinders' commitment to professionalism is backed by a dedicated training programme and registration with the Property Ombudsmen. It has also made new technology and staff training an intrinsic part of its service offering, leading to its stellar reputation for customer care – it offers services such as wide angle photography and advanced property management software to ensure each stage of the customer journey is smooth, seamless and stress free.
To find out more about Homefinders, the award winning sales and letting agency, visit http://www.homefinders.net.
About Homefinders
Homefinders is primarily a family run company. With several offices over North and East London, Homefinders has rapidly expanded in its decade of property existence, but all the time it has kept hold of it core values that separates it from the rest.
With offices in Hackney, Stratford and Bethnal Green, We offer a personalised and specialised service to all our clients. Buying, Selling, Renting or letting, we appreciate it is you that pays our wages so we aim to offer you the best service we can and constantly tailor our service to adapt to the market and offer you what you want.
With our unique and innovative management style, our staff is extensively trained and well motivated so each morning when they come in to work, they look forward to their day ahead and do the job to the best of their ability.
Haydar Sehri's blog