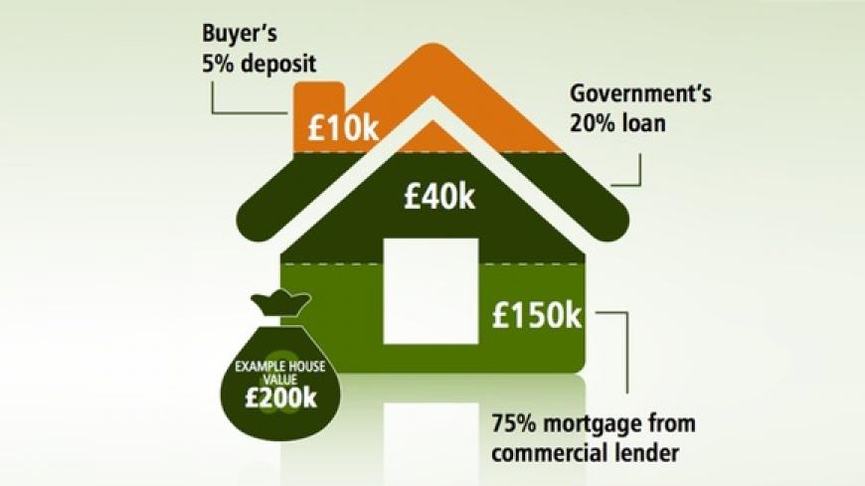 In March 2013, the government started the Help to Buy scheme which offers one of two options for new homebuyers or home owners looking to move. The first phase was a mortgage equity loan and the second phase rolled out in October 13 is a mortgage guarantee. Both require that the property value does not exceed £600,000, the property is to be your sole residence with no other properties owned and you must take a repayment mortgage.
Mortgage Equity Loan
This is only available for new build properties
You must provide 5% of the property price as a deposit
Government will provide 20% towards a deposit
You obtain a 75% mortgage
If you sell the property, the government will take a 20% cut of the sale price
After the 5th year of holding the loan, you will be charged 1.75% of the loan value and this will increase at 1% above the Retail Prices Index each year
Mortgage Guarantee
This is available for the purchase of a new or existing property
You pay 5% of the purchase price
Government provides a guarantee of 15% of the loan to the mortgage company
You will still be borrowing 95% of the property value.
Each has their pros and cons. The mortgage equity loan means for the first 5 years you pay no interest on the 20% the government has loaned, just on the 75% mortgage. You are however limited to new build homes and if you do sell for a profit, 20% of any uplift will go to the government and not yourself.
The mortgage guarantee has you paying interest on 95% of the loan from day one. It does allow you to buy existing houses as well as new builds and if house prices continue to rise annually (around 5% increase this year) then when you come to sell, 100% of the profits will be yours.
Dependent upon your circumstances, either could work out better for you. If you'd like further information, feel free to contact me for a list of lenders. If you're curious about the figures, why not click here for our mortgage calculator. Generally, mortgages cost around 4.5% to 5.5% on these schemes.
Haydar Sehri's blog