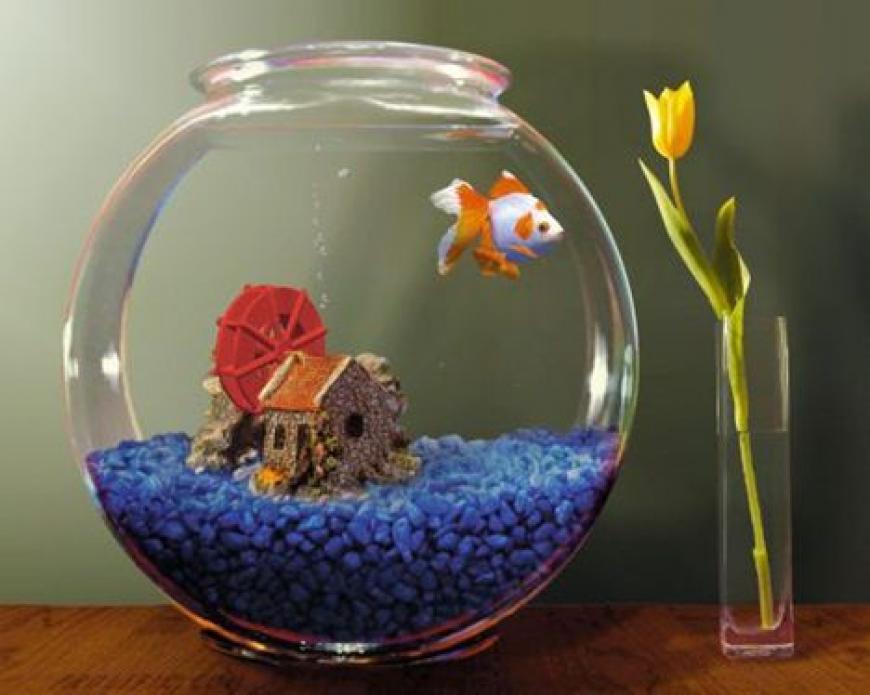 One of our tenancies came to an end and the client had decided to keep hold of the property rather than re-let it. He was thinking of selling and asked to pop round before the tenants moved out. We had inspected it a few months prior to the move out date and the tenants had been looking after the place, or so we thought.
I received a call from the client on site. "They've put a pond in the garden. It's about five feet across and they say it's about four feet deep in the middle" he paused "there are fish in it". A short period of silence followed while I tried to work out if he thought the fish made the situation better or worse. He then asked "That's coming out of their deposit right?"
Home improvements:
An unauthorised fishpond can obviously be deducted from a deposit, as can other things that tenants may consider to be an improvement. Subjectivity is the key issue here. One man's fishpond is another man's ruined garden. At companies I worked for prior to Homefinders I made deductions for things that are mind bogglingly ridiculous, to everyone but the tenant:
A 12ft x 24ft temporary swimming pool (no word of a lie, until 2010 it was still visible on Google earth) – "everyone loves a swimming pool"
A 10ft photorealistic portrait on the living room wall of hip-hop artists Eazy-E and Ice Cube – "who wouldn't want that?"…. (we suggested "Mobb Deep fans")
A basement converted into something akin to a soft play centre – "it's good for parties.
It's Yes, I genuinely think all of those things are fun; were I to walk into someone's house and find that the door to the spare bedroom had been cut in half and it was now a ball pool, I'd dive in and congratulate them. Does that mean I want one in my flat? Not really.my home:
As a property manager I've probably spent more time than most English teachers explaining the difference between an abstract noun and a common noun. "It's my home" is an argument/explanation we hear from tenants on a fairly regular basis. Yes, while you live there it's your home (abstract), we want you to enjoy it and be comfortable, but the building that makes up your home (common) is not yours. If you rented a car would Avis be happy if you returned it a few months later with a different coloured door, or a mobile disco installed in the back? While the examples listed above are extreme, a lot of tenants think that their landlord will have no objection to them carpeting the living room in bright purple – they probably will. If anything, they should show gratitude for the improvement to their home – they probably won't.
Advice for tenants:
If you want to freshen up your flat then you're only really on safe ground if you're replacing like-for-like. There's a reason most rental properties are painted in magnolia, it's neutral. No-one likes magnolia but, importantly, no-one hates it. The same can't always be said for bright orange. So, as a tenant are you doomed to a life of bland décor and fishless gardens? Not necessarily, but it's vitally important that you get any changes to the property agreed. If you want to add some colour to the living room, get in touch before you buy the paint, and get the specifics agreed in writing. When explaining to the TDS that the deduction for painting the internal doors neon pink is unfair, you'll find it easier to convince them with written permission than without it.
Advice for landlords:
It's obviously a judgement call as to whether you want the changes your tenants are proposing. Maybe the colour isn't what you would pick for your home but, given the current demand for properties, it would have to be pretty garish to put off future tenants. Getting your property decorated for free is always something that's worth considering. If you like your tenants but don't like their suggestion, you can always agree that they restore the property or pay for it to be decorated on their exit and take an additional deposit towards this. If you do decide to allow them to alter the property make sure it's confirmed in writing and in detail. "You can paint the room" is fairly vague. "You can paint the living room in the agreed shade of …" should protect you when you check them out of a house with a bathroom that shouldn't be painted black.
Meanwhile, back at the fishpond….
"That one's George, he's Mike, and that's Pete". Our client obviously has a soft spot for goldfish and (upon learning their names) stayed their sentence of execution. Despite several calls insistently demanding that we "take that ridiculous pond out of their deposit" he agreed he would allow it to stay. Our tenants had dodged a bullet and I no longer had the hassle of negotiating "removal of fishpond" from the deposit or rehousing the fish, it could have gone horribly wrong. Had the landlord insisted they pay for the pond, they would have had a hard time objecting to it and it could have cost them a lot. Items like painting a room have predictable costs whereas more unusual objects (swimming pools in particular) can end up costing a fortune to put right.
So, if you're going to make changes to a rental property as a tenant, get it in writing. If you're going to authorise changes as a landlord then make sure they're specific.
Failing that, give your fish names.
Haydar Sehri's blog