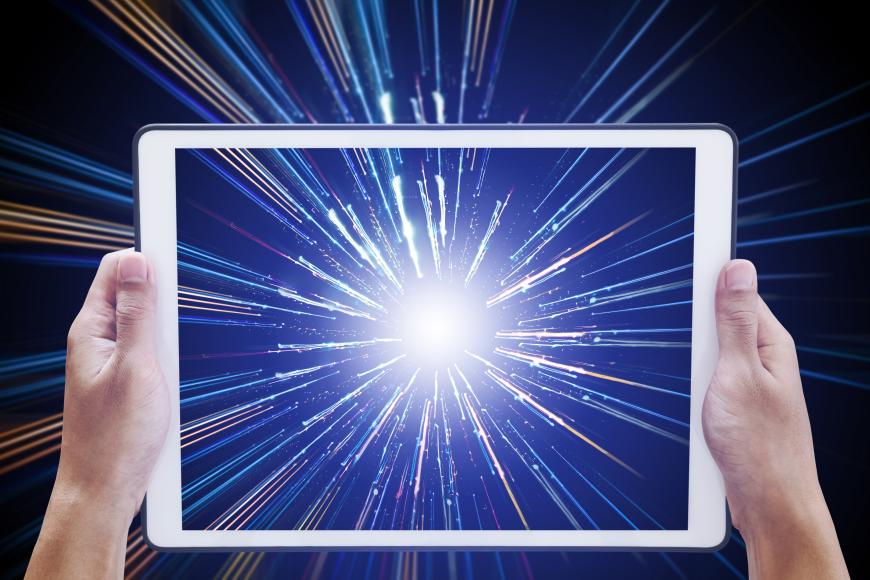 Thinking about broadband speeds in London? Need faster broadband, or moving home and concerned about the internet speed in your new home?
Broadband speeds across the capital vary considerably, with some areas among the lowest in the UK. However, there's no need to put up with low speeds, wherever you live. Just make sure you're aware of the options and find the deal that works for you.
Superfast Speeds Across the UK...But Not in London
You've probably seen adverts on TV, in print, and online, boasting superfast broadband speeds. You might even have heard co-workers, friends, and family discussing their impressive download times.
But a 2017 study by consumer group Which? discovered that several inner-city areas suffer with broadband speeds below the national average, struggling to pass 10Mbps (megabits per second). This contrasts with a typical BT fibre broadband speed of 67Mbps, and Virgin Media's lowest price package at 54Mbps.
Moving Home? How to Check Broadband Speeds Before You Move
One way to ensure your broadband speed is as fast as you're willing to pay, rather than what the network can support, is to move home.
Moving home regularly in London is common, but how do you ensure your new home has good internet access?
The first thing to do is contact your current provider. They'll be able to tell you what services they can provide to a particular address. Though of course they're not going to tell you about rival providers, so for the most detailed information use SamKnows.com. With the free broadband availability tools you can see what types of broadband are on offer, including Virgin Media cable broadband and ultrafast fibre.
Some online estate agents and property brokers list broadband speed, but it's best to check yourself to confirm.
You should also be aware that if you're moving mid-contract and your current provider don't have coverage in the area you're moving to, you may have to pay a severance fee.
Upgrade to Fibre for Faster Broadband
Whatever your current broadband speed is, fibre is being rolled out across the UK. This means that households with previously slow speeds can expect significantly faster internet.
There might be an increase in price, or you might be able to find a deal that works.
Some mobile phone providers also operate as ISPs. If your property has an Openreach (BT) phone line, EE, Vodafone, Talk Talk and others all offer domestic internet in their bundles. You might even benefit from some sort of loyalty bonus, such as better mobile broadband, or a discount for your landline.
Fibre Not an Option? Consider 4G
An unpleasant fact in London is that not every home is connected to cable or fibre internet lines. This is particularly true for residents in high rises, where landlords might have prevented access to Openreach to upgrade lines.
If you have been unable to contact your landlord, 4G is a good alternative. Instead of relying on internet coming through the phone line, you can sign up with Relish, a 4G home broadband network who can hook you up the same day for £20, or the next day for free.
EE, Three, and Vodafone also offer 4G home broadband services.
What About Mobile Broadband?
Stuck for options? Mobile broadband can provide fast speeds, and doesn't rely on a phone line or access to a fixed connection.
In a few years you may be able to access the forthcoming 5G network, set to be rolled out sometime around 2020.
Although brand new smartphones will be required to receive 5G, mobile access hotspots for 5G networks will be available at a more affordable price.
However, it's worth noting that previous rollouts of next generation mobile internet have taken longer than planned, so 4G will be the better option until 5G coverage is established.
Upcoming Broadband Developments in London
Westminster and the City of London are will soon have Fibre-to-the-Premises ultrafast broadband courtesy of the ISP G.Networks, who have recently closed a deal with partner Cube Infrastructure Managers (Cube IM) for £60 million to complete rollout to 120,000 business and residential customers.
Meanwhile, ISP Community Fibre is rolling out ultrafast broadband to 100,000 homes, prioritizing disadvantaged communities across the capital, with chief executive Jeremy Chelot noting "This funding takes us a step closer to have our full-fibre network available to social housing or private landlords in every borough in London. In addition to the homes we are connecting, thousands of people will benefit from this investment through the community engagement and upskilling programmes we run on all our instalment projects."
Thanks to government policy and the National Digital Infrastructure Fund (NDIF), superfast broadband is becoming a reality for more people in London. Use Broadband Genie's guide to broadband in London for more information.
Haydar Sehri's blog